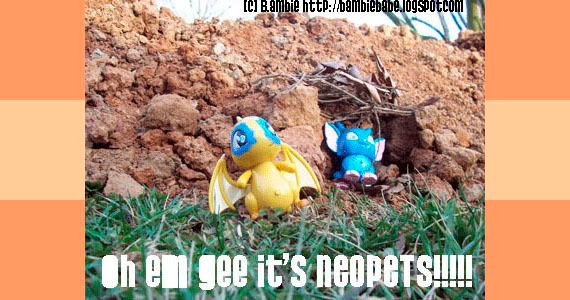 About Me
The Clone is an eight year old girl who loves to read and write. She is also a very good artist, and has a very keen sense of humor. She loves to tease, and her main targets are usually her two older sisters.

Sister Sites
Archives
Sponsor
Powered By
The Clone Chronicles
Journal of the Jojo Clone, an eight nine ten year old girl who also wants to start posting her thoughts online.



♥ Blogs ♥

The Clone's White Board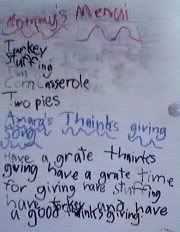 Yesterday, The Clone wrote a song on her board. She hastily erased it when mom and I(Jade talking here!) saw it. Today, since she was feeling a wee bit better about the song, she allowed me to trace the erased letters that had left an imprint behind, due to the dirty surface.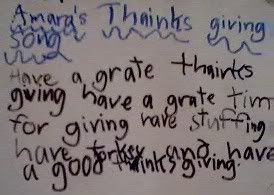 We copied it into her Journal and she re-wrote it.
Her song reads:

Have A Grate Thainks Giving
Have A grate Time for
Giving Have Stuffing Have Torkey
And Have a good thainks giving.

Along with her song, she recorded a "Mommy's menu" for Thanksgiving, because we've been sampling her desserts all day.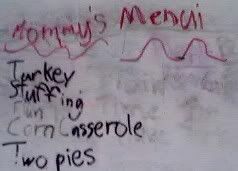 Her menu reads: Turkey, Stuffing, Flan, Corn Casserole, Two Pies.

She did all this on her easel that has a small white board on it. She's now busy with some other things in the kitchen. You can visit all of our recipes by clicking the kitchen link in the previous sentence.

More to come! Happy Thanksgiving!!
Thursday, November 25, 2004; 1:49 PM |